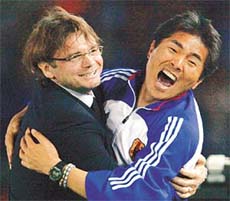 I just read
this article from the New York Times
discussing the coach selection for the North Korean soccer team getting ready for 2010 World Cup in South Africa. I was surprised yesterday when a friend of mine who's really into soccer told me, not only did South Korea make it into the finals, but so did North Korea, for the first time since 1966.
North Korea has approached Phillipe
Troussier
, a French coach who coached Japan in the 2002 World cup, not to mention many other teams around the world.
Now, this is the question. What would you do if North Korea asked you to be their soccer coach? North Korea, the rouge nation who's plane was just searched in Thailand and was found to be carrying illicit weapons that they suspect were to be delivered to other rouge nations almost certainly for some sort of nefarious
business
. Who is under many sanctions by the UN for it's missile testing. Who has some of the worst human rights records in the world. Would it be wrong to accept the job?
There is an upside to this job, though. Well, besides the money, which I'm sure would be good. Not to mention the opportunity to coach a World Cup soccer team. But that's not what would be first on my list (probably because I am not a soccer coach). Can you imagine being able to get into North Korea and have a somewhat real experience with real North Koreans? Granted, he'd probably never see the other side of North Korea... the starvation, the prisons, the average people on the street. But, no one gets to see that.
If I were offered this job, I don't think I could turn it down for that reason only. Sure, some people may criticize me for accepting to work for one of the most "evil" countries (quoth Bush) on the planet. But how many people have gotten inside for real?? And I don't think Bill Clinton counts...